---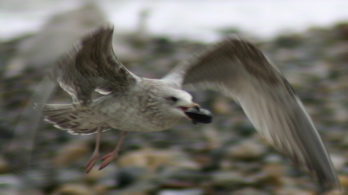 I do try to remember to post on places we've been that were good. Before our trip to Egypt we went to Llandudno for the weekend. It was a nice weekend, but being in November was a little cold, windy and well closed.
We did find a great bed and breakfast, they took really good care of us and the kids. That evening we went to the Albert Pub which has been renovated and is serving great food. The waiters were quite flustered by our request to take our desert out, and packed up a huge pile of ice cream and cheesecake for us. It then proceeded to leak all over the table in the hotel so we just had to eat it all.
One thing that we enjoyed seeing were the seagulls, grabbing muscles from the sea shore. They'd fly up a metre or three then drop them on the pavement. Repeating this until the muscles cracked open and could eat the insides. And it made some for interesting photos.